2 way auto car alarm system with engine start stop button remote prewarm or precool the car
0
stars, based on
0
reviews
Wholesale Price:

| | |
| --- | --- |
| Quantity | Price |
| 1+ | $84.00 |
| 50+ | $75.60 |
Item specifics
Name::
LCD two way car alarm
advantages::
easy to installation,shock alarm and side door alarm,start stop button,long distance remote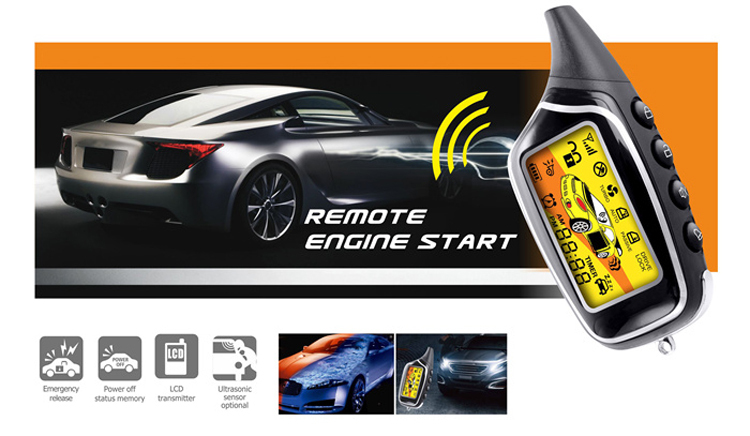 2 way auto car alarm system with engine start stop button remote prewarm or precool the car

product has not pke function,no auto induction lock or unlock car door!!!!
if you need pke funciton,don't buy this product.
remote distance is almost 300-500meters!
if working enviroment is good,remote distance can reach 500-700M
Note:
As for this product,you can choose ultrasonic sensor or window closer module or bypass module(you can choose this module if your original car key is chip key)
Model No:CD-T171A3S
brand is cardot
Product Bacic Features:
Feature 1 remote arm or disarm
Feature 2 remote lock or unlock
Feature 3 remote start engine
Feature 4 remote stop engine
Feature 5 10 minutes countdown time engine off
Feature 6 remote learning
Feature 7 mute arm or disarm
Feature 8 open door flashing light
Feature 9 remote key board lock
Feature 10 engine auto detection
Feature 11 car searching
Feature 12 0.5S/3.5S lock time setting
Feature 13 emergency reset
Feature 14 two way stage shock alarm
Feature 15 stop remote warning
Feature 16 stop alarming automatically
Feature 17 after remote start,must turn the key to ON position and then press the brake
Feature 18 remote start times are 3 mostly
Feature 19 valet mode
Feature 20 remote trunk open
Feature 21 instrusion memory
Feature 22 warning abnormal situations
Feature 23 central lock automatication
Feature 24 auto re-arm
Feature 25 LCD remote with vibtation light audible warning
Feature 26 supporting diesel or petrol car
Feature 27 supporting auto or manual transmission car
Feature 28 window rolling up output
Feature 30 bypass negative output
Feature 31 Supporting meachanical steel wheel lock and electronic central lock

Product paramters:
main unit
workign voltage: 9V-16V
max current of the flash light output: 5A
max current of the siren output: 10A
max current of the central door lock: 10A
current of the shock sensor: <1mA
static current: 8mA
Frequency: 433.92mhz
operating temperature: -40- +80 degrees
remote control
working voltage: 6V
working current: <6mA
static current: 0Ma
remote control distance: >300M
frequency: 433.92mhz
Product compositions:
1 main unit,1pc start stop button,2pcs FM LCD alarm remotes,3 groups main cables,1pc start module,1pc shock sensor,
1pc LED indicator,1pc alarm electronic siren,1pc killer relay,1pc reset button,1 pc alarm antennas,1pc english manual,1pc color box.
Main Unit Installation:
The main unit is suggested to placed under the panel. After fixing the main unit in a
suitable place, start connecting the wires in accordance to the WIRE CONNECTING DIAGRAM
before putting back all the parts, simply test the system function first.
Shock Sensor Installation:
Install the sensor after fixing the main unit .It is recommended to place the shock sensor
near the car doors, or beside the panel so as to easily detect any intrusion actions. To
adjust the sensitivity of the shock sensor, simply use a screw to turn the button in the
shock sensor, turning right to
adjust with a higher sensitivity or vice verse. Then test the sensitivity by triggering the
shock sensor. If i t triggered, the L.E.D will light up. Please do not directly hit the
shock sensor.
Central Lock Installation Guide
This system can control several common central lock types without any additional parts.
TYPE A:
For cars equipped with no central lock, recommended to install it first. (see FIG 1)
TYPE B:
For cars equipped with central lock but no motor on driver aside, add master motor and rod.
(see FIG 2). This type of installation is applicable to operate factory lock system in some
FORD, Mitsubishi, Mazda, and Nissan models.
*Installation tips: First install the actuator near the door' s manual latch, then fix the
rod of the actuator on the manual latch
TYPE C:
For cars equipped with central lock and with motor on the driver' s side.(see FIG 3)
TYPE D:
The door locks are controlled by electrical activated vacuum pump.(See FIG 4). The timing of
actuator mechanism can be set as 0.7 seconds or 3 seconds at the JP2.
For some Mercedes-benz and Audi models.
TYPED E:
For some cars not mentioned above, please consult your dealers.
NOTE: Type B installation method (FIG 2) is suitable for most of the cars.
Diagnosis:
The remote control does not work.
* Check the battery level. It is suggest to replacing a new battery each year.
* Check if the remote control is moisten or crash.
The remote control does not make the main unit work.
* Check the battery level in the remote control.
* Check if the remote control is moisten or crash.
* Check if the frequency of the remote control is changed.
* If possible, use another control for comparison. If both of them do not work, then check
the main unit and the wire connection.( Do not open the main unit for checking)
The central lock does not work.
* Check if the actuators are working.
* Check wire connection
* Check if the fuse of the main unit is damaged.
The siren does not sound when the system is triggered.
* Check if the sirens are available.
* Check the wire connection between the siren and main unit.
The siren keeps chirping while the main unit installs.
* Check if the socket is insert converse or check the wires connection or the CPU safety
fuse.
* If back up battery is used, check if the switch is positioned at ON status.
The alarm sounds 10 seconds after the vehicle is armed, same problem keeps happening again.
* Check if the shock sensor is too sensitive.
* Check if the door pin switches are damaged.
* Check wire connection.
The alarm is easily triggered when a heavy vehicle is passing through.
* Check if the shock sensor is too sensitive.