2019 year gsm&gps tracking car security system with new hyundai smart key and long start stop button 2 years guarantee
0
stars, based on
0
reviews
Wholesale Price:

| | |
| --- | --- |
| Quantity | Price |
| 1+ | $145.00 |
| 10+ | $137.75 |
Item specifics
Feature:
Auto Central Lock,The Remote Control To Open Trunk Lids & Parts,The Anti Misoperation,Second Alarm,The Luggage Compartment (Rear Door) Detection,Automatic Reply,Flashing Light Alarm,Mute / Sound And Light Alarm,Sound Alert,Gsm Network Remote Real-Time Monitoring,Automatic Locking After Leaving,Automatic Unlocking When Closing,Remote Central Lock,Mute Anti-Theft,Security Alert,bluetooth,gps tracking,SOS button
Type Of Accessory:
Special Parts Of Anti-Theft Device
Type Of Remote Control:
Without LCD Remote Control
cardot 2019 new product
cardot the second generation new product is coming up since the 1st July 2018
PKE+GSM+GPS tracking+push start stop+remote start stop+car alarm+bypass output+bluetooth
supporting petrol or diesel car
supporting manual or auto transmission car
supporting mechanical steering wheel lock and electronic central lock
if car has chip immobilizer need to buy bypass to avoid chip immobilizer
SMS mode and data traffic mode double control!
contact us:
whatsapp:+8613510257499
skype:cardots
wechat:13510257499
email:info@szcardot.com
Model No:688QY
It is 2g gps module version,if you want 3g version,pls contact to me to buy,thanks

special remind:
we have this product user video and installation video in youtube,you can contact us to get video link!
we have english manual,russian manual,portuguese manual for this model!
we won't send gps battery,because gps module get power from alarm host.
Mobile APP main Functions:
APP lock car door
APP unlock car door
APP open trunk
APP finding the car
APP start engine
APP stop engine
APP GPS online location
APP history record replay
APP alarm information reminder
APP voice monitoring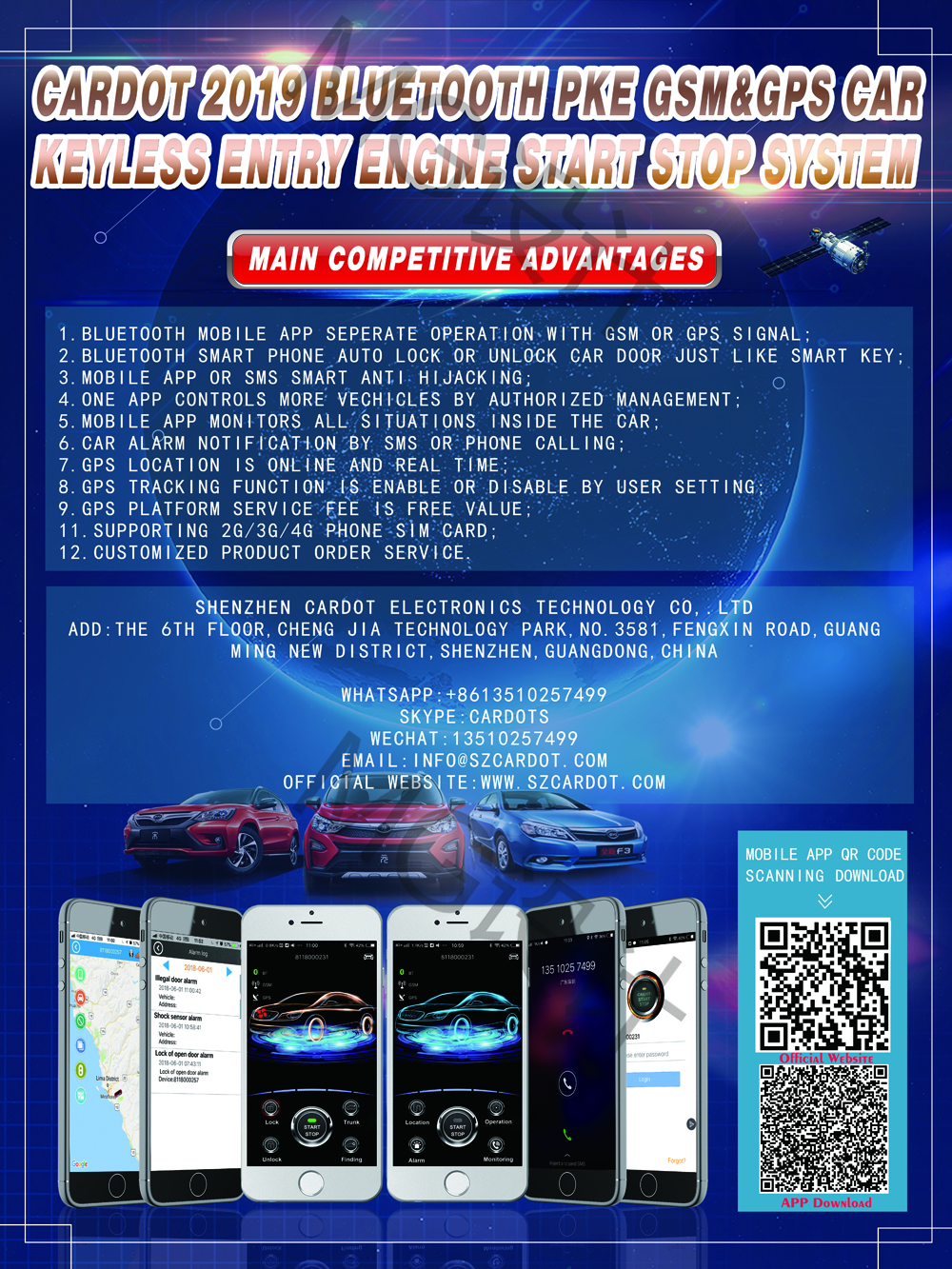 the second generation adding functions:
1.mobile app vechile manangerment;
2.sms enable or disable gps location anti tracking;
3.alarm phone calling reminding;
4.Bluetooth auto lock or unlock car door;
5.external gps or gsm antenna for receiving better signal;
6.external voice monitoring speaker;
7.SOS button reminding;
8.GPS module with seperate lock or unlock relay built in;
9.extra and extended killer relay starter wire;
10.gps module battery is optional;
11.luxury new APP profile.
Smart car alarm Product Basic Functions: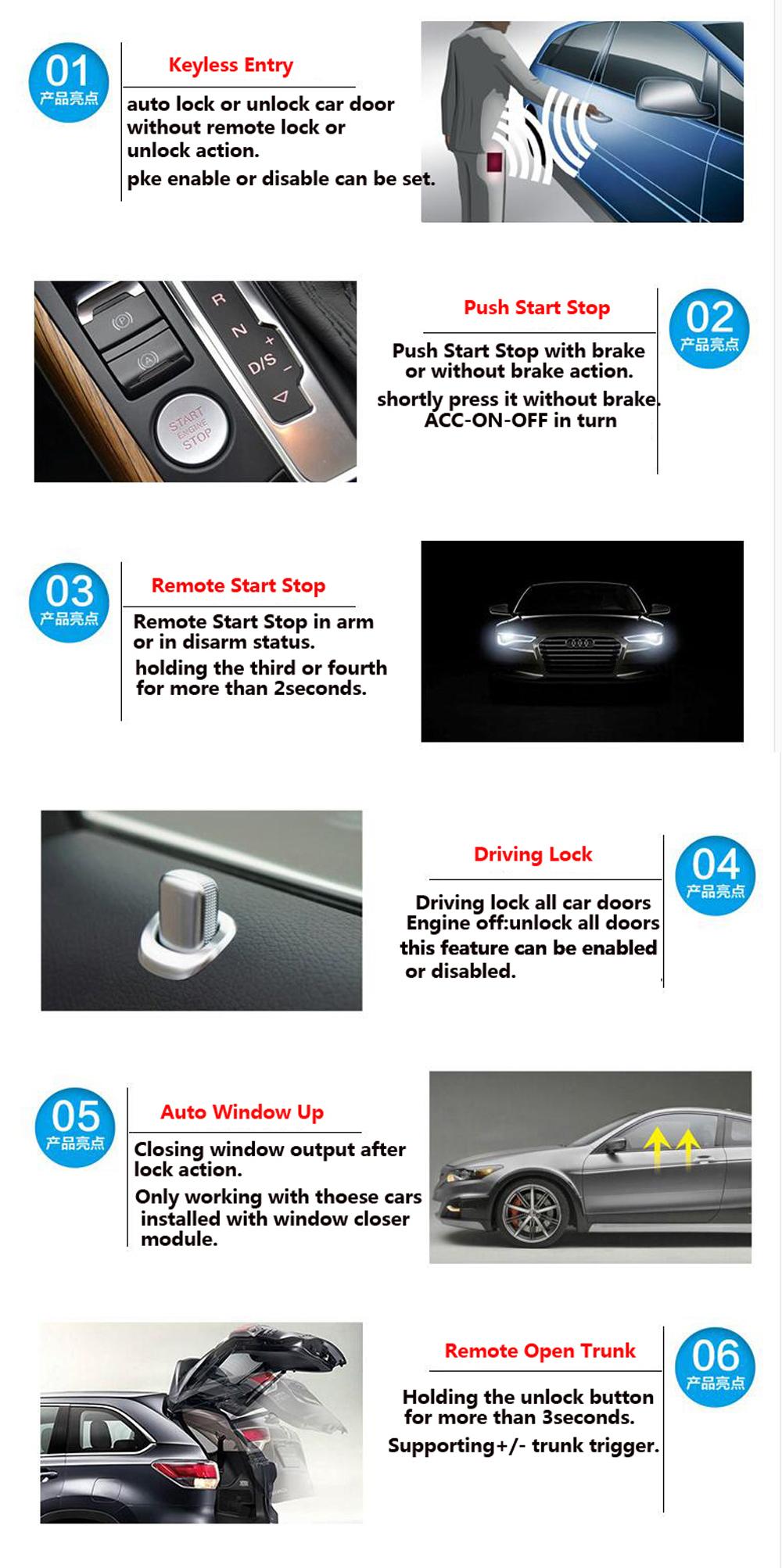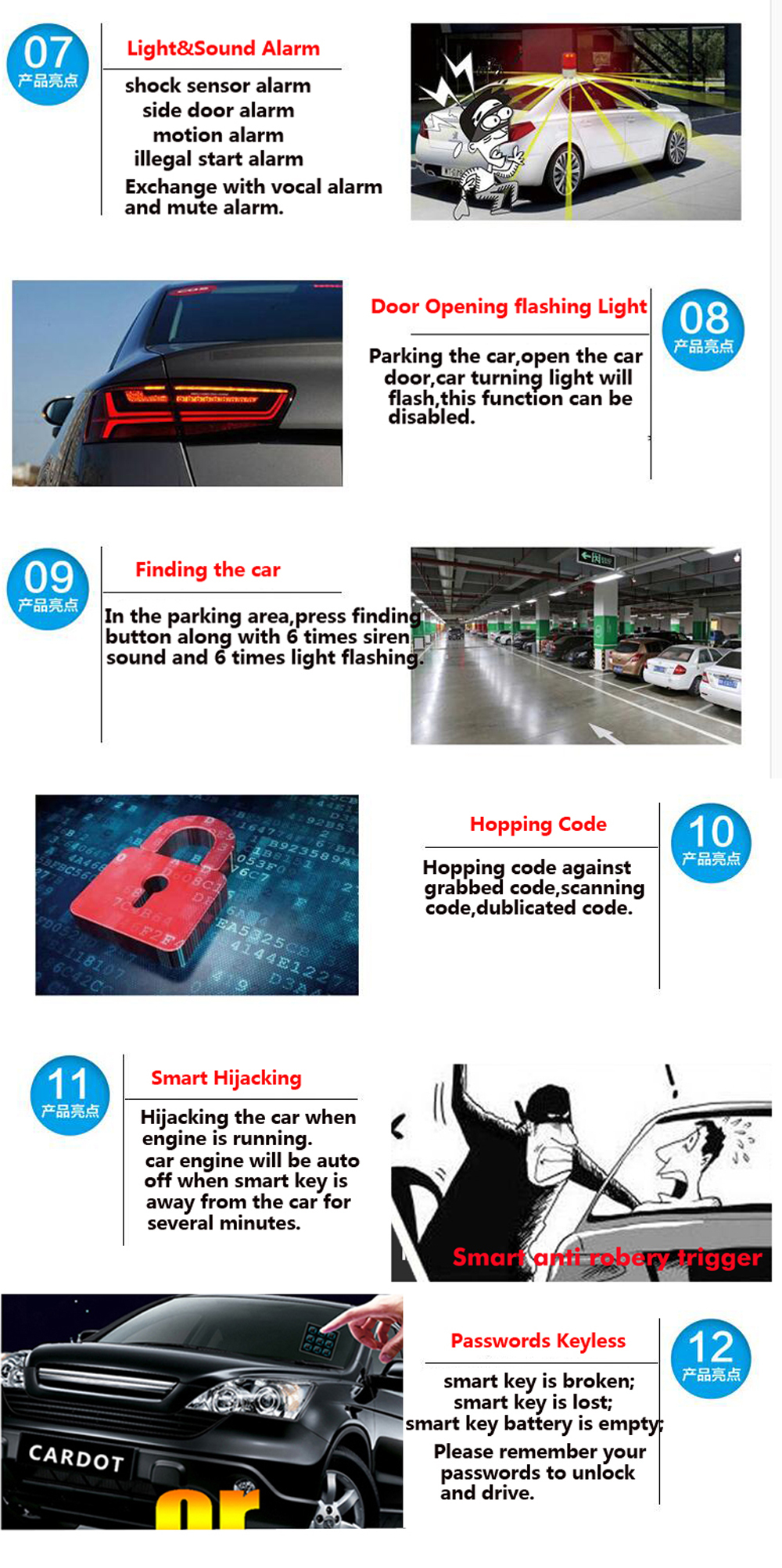 product standard composition:
1 car alarm main unit,1pc start stop button,2pcs smart keys,1pc main cable,1pc start cable,1pc reset button,1pc alarm
led,1pc alarm antenna,2pcs pke antennas,1pc gps control moudle,1pc english manual,1pc color box.
product optional compositions:
1.shock sensor;
2.ultrasonic sensor;
3.window closer module;
4.car alarm siren;
5.smart key silicon cover;
6.killer start relay;
7.bypass module;
8.start stop button panel;
9.SOS button;
10.external voice speaker;
11.extra lock and unlock wire.
Cardot smart phone car alarm advantages:
1.Supporting 2G/3G/4G SIM card;supporting andriod or ISO smart phone control!
2.Supporting SMS mode and APP data mode,double mode app control car without data traffic!
3.if our GPS function or APP is upgraded,it is not necessary to return gps module to us,we can upgrade your system online,it will save much trouble and cost.
4.Cardot GPS module matched with cardot top qualtiy keyless entry&engine start stop system.
5.Our product is cardot brand product,don't worry about quality.
6.Our GSM and GPS antenna is built in main unit,also signal is good,so installation is more easy!
7.There is voice monitoring function!you can hear talking inside the car.
8.when you use mobile app to stop engine,it is more safe.when car speed is less than 20km/h,plus passwords confirmation,engine will be off by mobile app operation.
9.when trigger illegal open door,illegal start,shock alarm,motion alarm,your mobile app will get alarm message reminding.
10.GPS location is real time online!
11.SMS cut off car fuel or reset car fuel for anti hijacking purpose!
12.bluetooth mobile APP control the car without gsm or gps signal!
13.bluetooth auto lock or unlock car door!
14.APP car manangement!
15.SOS emergency help calling!
16.GPS function enable or disable by SOS!
17.We can send you free value API file when you order qty is more than 100pcs one time!
18.we can make customized product or service by your order requirements!