car immobilizer rfid car alarm keyless entry central lock without shock sensor alarm remote start stop engine by key remote
0
stars, based on
0
reviews
Wholesale Price:

| | |
| --- | --- |
| Quantity | Price |
| 1+ | $36.00 |
| 100+ | $32.40 |
Preface
CARDOT Ke04-BCU is a upgrade combination version remote keyless entry system&push start stop system,this is universal version,it has three advantages:
1.practical functions:remote lock or unlock,remote open trunk,extra siren output,window rolling up output.
2.push start stop engine.car owner use original car remote or alarm remote to unlock car door,enter the car and press footbrake to start engine by pressing start button,say goodbye to mechanical key!
3.top security RFID invisible anti-theft technology,if car owner want to drive the car,firtly car owner press remote to unlock car door,and then swipe the RFID unit around the RFID loop,engine also can be started.
Product Name:remote keyless entry with RFIDimmobilizer and engine start stop
Product Model:KE04-BCU
Car immobilizer rfid car alarm keyless entry central lock without shock sensor alarm remote start stop engine by key remote
Main Features:
1.press button start stop longer
2.press button ACC-ON-OFF shortly
3.15 minutes countdown time auto stop the car
4.remote start by OEM remote or alarm remote
5.hand brake auto detection
6.support diesel (6s prewarm time)or petrol car
7.support auto or manual transmission car
8.DIP switching setting
8.1) petrol mode or diesel mode setting
8.2) connecting fuel path wire or not
8.3) 0.85S/1.2S start time setting
8.4) RFID enable or disable setting
9.bypass output for chip key car,bypass module is optional and extra value.
10.supporting meachanical steel wheel lock and electronic central lock
RFID part features:
10.RFID immobilizer engine;
11.90S auto disable car start stop button;
12.remote arm disable start stop button;
13.RFID unit program by learning switch;
14.can learn 10pcs rfid tags mostly.
Remote Start Engine:
press remote unlock button 3 times; or press lock unlock lock unlock lock unlock.
Remote Stop Engine:
press remote lock button 3 times; or press unlock lock unlock lock unlock lock.
Advantages:
1.if you only want to have RFID and push start stop functions,you only connect 6P start cables,don't need to connect main cables.
2.if you can not find fuel path wire,you can disable fuel path wire connection by dip setting;
3.Microchip and brand relay makes sure top quality and long life;
4.100% copper wires;
5.Welcome agent cooperation and accept OEM or ODM order."
remote keyless entry part:
LED status indicator
Channel code learning programmable receiver
Learning switch: code learning to add or program new remotes or replace existing ones
Windows roll up output function
Boot (trunk) release
Pneumatic lock and electric lock is jumper setting
Random coded (anti scan/grabber) remote controls
Super code protection, copy-proof with 4.3 billion possible codes (random code generated)
product standard composition:
1pc push start main unit,1pc remote keyless main unit,2pcs RFID coils,1pc start stop button,1pc 6P start cable,1pc main cable,1pc RFID loop,2pcs remotes,1pc LED indicator,1pc english manual,1pc color packing box.
Warm Tips:
1.our trunk release output is positive,fitting most of cars,but if your car trunk is negative output,you need to add one relay to switch polarity.
2.Our keyless entry only provide one negative signal output,which can trigger window up if your car has been installed by window closer module!
3.some cars need relay to trigger window up,don't need extra window closer module,can work with power window kits in your car directly.
4.our siren output is positive output,if your siren is negative output,need to add one relay to change pole.
5.if alarm remote is lost,you can program new remote by yourself,there is learning button outside of the main unit.
6.we won't send you remote battery,model no is CR2016,it is easy to buy them in this world!
7.remote is flip key remote,we decide car blade key type if you have not any special requirements regarding car blade key!
8.our product doesn't support electronic steering wheel lock car.
9.product has not auto lock or unlock car door function,need to press remote to lock or unlock car door.
Product Real Photos: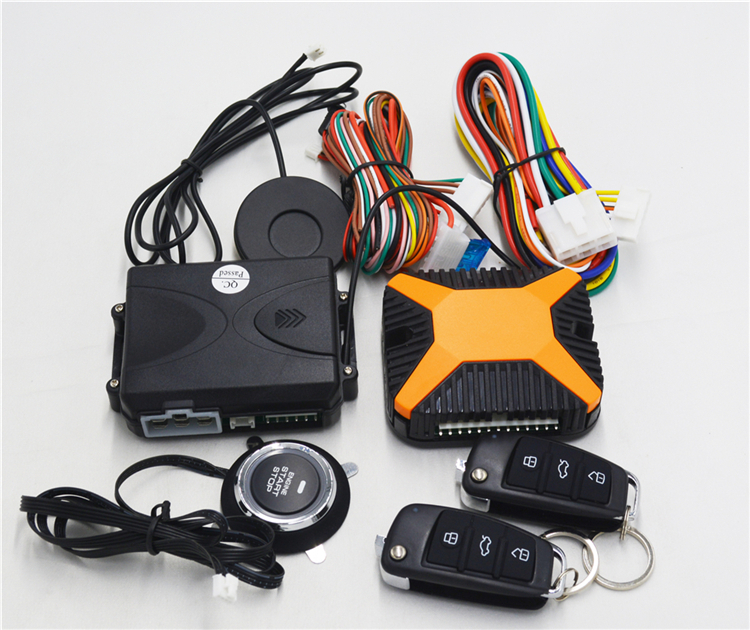 Product Installation Information: