car parking sensor system with LCD monitor and car camera auto brake function safety protection in the danger
0
stars, based on
0
reviews
Wholesale Price:

| | |
| --- | --- |
| Quantity | Price |
| 1+ | $169.00 |
Car parking sensor system with LCD monitor and car camera auto brake function safety protection in the danger

Model no:PS03-BK


Why do you need this product?
1.Sometimes,New driver forgets to press the brake when parking the car,maybe incuring the possible human casualties and property damages.
2.Accelerator is not controlled well when excuting the parking action,resulting in car parking speed is too fast to incer the accident.
3.Emergency: Such as people,bicycle moving behind the car.
4.Driver take much attention to a warning device such as parking sensor or rear view camera system,people will be unresponsive without any work for a long time.
5.Bad vision like raining or night,drive can not see clear image in the mirror.
Product Feature Instruction:
1.Installation is simple,it never damage to original car brake system
2.system gets power when the gear is on the parking position,cut power when gear exits parking position
3.Product is compatiable with aftermarket car DVD and camera
4.Human voice remind and alarm with real distance alert and display
5.auto brake action in the danger area without pressing the brake
6.auto brake distance 0.7/0.9/1.1/1.3m can be adjusted by switch
7.auto brake function can be disabled by turn on direction light
8.parking sensor alarm distance range:0.3-1.5m
9.Recommend parking speed is less than 3km/h
10.sensor sensitivity can be adjusted by switch
Product Real Photos: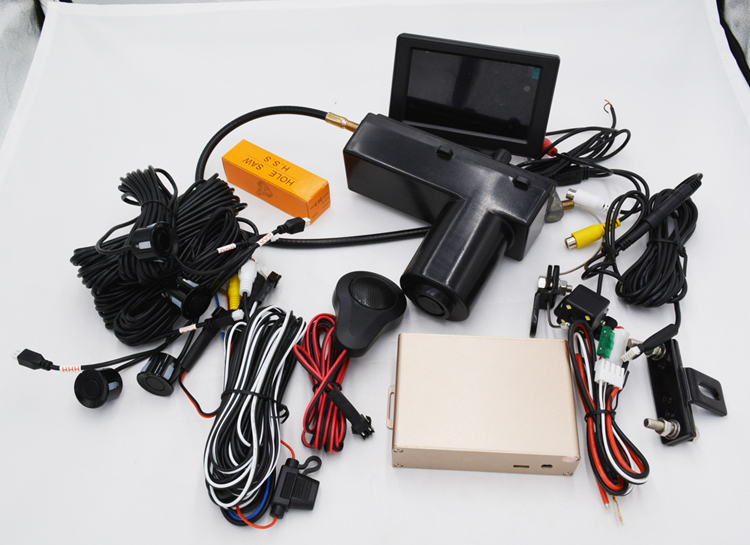 Product Manual: