one way car security alarm system with shock sensor alarm and motion sensor alarm double protection auto window up after lock
0
stars, based on
0
reviews
Wholesale Price:

| | |
| --- | --- |
| Quantity | Price |
| 1+ | $28.00 |
| 50+ | $25.20 |
Item specifics
advantages::
shock alarm and side door alarm,ultrasonic sensor,auto window up output
Preface
Thank you for purchasing this universal one way car alarm system:
1)Please read this manual carefully before using this car alarm do that you'll take the full advantage of every marvelous featues provided by thes system.
2)cardot is responsible for the service and warranty.
3)The system raquires on specific maintenance.
4)This device may not cause harmful interference,
5)Due to the complexity of this system,it must be installed by professional staller
Product Name:Multiple Functional One Way Car Alarm System with ultrasonic sensor
Model No:CD-200-RK78
One way car security alarm system with shock sensor alarm and motion sensor alarm double protection auto window up after lock

Main Features:
1.Remote Arm or Disarm
2.Warning identification,Remote Anti-hijacking
3.Centraldoor lock automatication
4.Door unclosed well warning function
5.Car finding,help calling,Re-arm
6.LED indicator
7.Remote trunk release
8.Engine cut off
9.power off memory
10.Automatic arm jumper setting
11.electric central lock or pheumatic central lock jumper setting
12.open door flash light or not by jumper setting
13.Outside emergency disarm button
14.window rolling up output or not by jumper setting
15.shock sensor alarm
16.side door alarm trigger
17.illegal start alarm
20.motion alarm
21.Window close signal output(-)
22.doom light delay
23.service mode
24.learning code
Technology Parameters:
Main Unit:
1)Output Current:signal light:5A,siren:10A,central lock:10A;
2)Code Mode:Learning code;
3)12V;
4)Static Current:<15mA;
5)Shock Sensor Current:<1mA;
Remotes:
1)Voltage:6-12V;
2)Static Current:0mA;
3)Working Frequency:433.92Mhz;
4)Code Times:>1 million;
Product Standard Compositions:
1pc Main unit,2pcs alarm remotes,1pc Main Cable,1pc killer start relay,1pc shock sensor,1pc ultrasonic sensor,1pc Alarm LED indicator,1pc emergencey reset button,1pc alarm siren,1pc ultrasonic sensor,1pc english manual,1pc color box.
Special Instruction:
1.We won't send remote battery CR2016,2pcs reach remote,it is easy to buy them in this world!
2.Trunk output is negative signal,if your original car is positive signal,please add one relay to switch polarity!
3.We won't send you window closer module,this is optional part and extra value!
4.We have finished remote program to main unit in factory,so you don't need to program them again!
5.We decide car blade key type if you have not any special requirements when send us order!
Product Real Photo: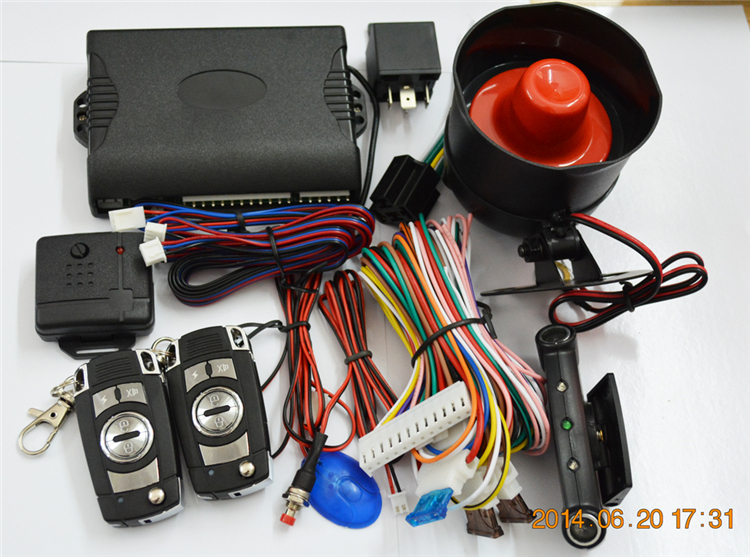 Car Alarm Warm Tips:
INSTALLATION POINT TO REMENBER:
This product represents many years of research and development.it
is very sophisticad and should be installed by experienced security
installers only.please do nit attempt installation of this product without
reading this guide,the system has designed to provde the ultimate in
security,coupled with limitless convenience and expansion options.
Do not disconnect the battery if the vehicle has an anti-theft coded
radio.if equipped with an air bag,avoid disconnecting the battery if
possible.
Important!Many airbag systems will display a diagnostic code
through their warinig light after they lose power.
Disconnecting the battery requires this code to be erased,a proce
dure that can requie a trip to the dealer.
DECIDIG ON COMPONENT LOCATIONS
LOCATIONS FOR THE SIREN
Some things to remember about mounting the siren:
1.Keep it away from heat sources such as radiators,exhaust manifolds,
turbochargers and heat shields.
2.mount it where a thief cannot easiscily disconnect it,whether thr hood is
open or shut,both the siren and its wires should be difficult to find.This
usually involves disguising the wire to look loke a factory harness.
3.when possoble, place the siren on the same side of the vehicle as the
control module,where its wiers will erach the control module's wires with-
out extending them,always run the wires though the centre of a grommet,
never through bare metal.
4.point the siren down so water does not collectin it.
LOCATINS FOR THE CONTROL BOX
Some things to remember about where to mount the control module:
1.never put the control moule in the engine compartment!
2.the first step in hot wiring a vehicle is removing the driver's side
under-dash panel to access the starter and ignition wires,if the
control module is placed just behind the driver's side dash it can be
easily be disconnected.
3.when mounting the control module,tye to find a secure location
that will not require you to extend the harness wires,keep it away
from the heater core(or any other heat sources)and any obvious
leaks.
4.the higher the coutrol module is in the vehicle,the better the
transmitter range will be,if you put the control module under a
seat or inside a metal dashboard,range will suffer.
5.some good control module locations:above the glove box,
inside the centre console,obove the under dash fuse box,above
the radio etc.
LOCATIONS FOR THE STATUS LED
Things to remenber when positioning the status LED:
1.it should be visible from both sides and the rear of the vehicle,
if possible.
2.it needs at least 1/2 clearance to the rear.
3.it is easiest to use a small removable panel,such as a switch
blank or a dash bezel,remove it before drilling your 1/2 hole.
LOCATIONS FOR THE SHOCK SENSOR
Some things to remenber about where to mount the shock sensor:
1.Never put the shock sensor in the engine compartment!
2.Find a spot close to the control module so that the wires to not
need to be extended,keep it away from the heater core(or any
other heat sources)and any obvious leaks.
How the shock sensor is mounted is the most important factor in
its performance,we recommend 2 methods:
1.Using double-sided tape or hook-and-joop fastener to mount
to a trim panel or an air duct,or
2.Wire-tying to a wire harness.
LOCATIONS FOR THE IMMOBILISER RELAY
If immobiliser relay or its connections are immediately visible upon
removal of the under-dash panel, they easily can be bypassed,always
make the relay and its connections diffcult to discern from the factory
wiring!Exposed yellow butt connectors do not lool loke factory parts,
and willnot fool anyone!For this reason,routing the immobiliser relay
wires away from the steering column is recommended.
Finding the wires you need
Now thet you have decided where each component will be located,
you're going to find the wires in the car that the security system will
be connected to:
IMPORTANT:do not use a 12v test light to find these wires!Use a
digital multimeter for all testing.
MAKING YOUR WIRE CONNECTIPNS:
There are two acceptable ways of making a wire connection-solder
connections and crimp connectors, when properly performed,either
type of connection is reliable and trouble-free,regadless of whether
you solder your connections or you mechanical-type crimp on con-
ections are mechanically sound and that they are insulated.
Cheap electrical tape, especially off in hot weather, use good quality
electrical tape or heat shrink:
1.never twist-and-tape the wires together wothout soldering
2.never use"fuse taps",as the can damage fuse box terminals.
FINDING THE DOOR PIN SWITCH CIRCUIT
The best places to find the door switch wire are:
1.at the pin switch:when testing the pin switch,check wire to ensure
that it"see"all the doors ,often,the passenger switch will cover
all the doors even if the driver's switch will not.
2.at the dome light:this may nit be your best choice if the vehicle had
delayed dome light supervision, but it will work in many hondas,or any
vehicle with completely diode-isolated pin switchs.
Once you have determined the wire color,the easiest place to
connect to the wire is often at the kick panel,at the windshield
pillar,or in the running board,when an easy location is not avai-
lable, running a wire to the dome light itself is often best solution.
How to find adoor pin switch trigger wire with multimeter:
1.set to DCV or DC voltage(12vor 20v is fine)
2.in most fords, fasren the(-)probr of the meter to chassis ground
,in most other cars,fasten the(+)probe of your meter to(+)12v
contant.
3.probe the wire you suspect of being the door trigger wire,if the
meter reads(+)12v when any door is opened,you have found a
trigger wire.
OBTAINING CONSTNT 12V
We recommend two possible sources for 12v constant:the(+)terminal of
the battery, or the constant supply to the ignition switch,will be powering
fuse within 12 inches of this connection,if the fuse also willbe powering
other circuits, such as door locks, a power window module, headlinght
control system etc,fuse sccordingly.
FINDING THE 12V SWITCHED IGNITION WIRE
The ignition wire is powerd when the key is the run or start position
,this is because the ignition wire powrts the ignition system(spark
plugs,coil)as well as the fuel delivery system(fuel pump,fuel injection
computer),accessory wires lose power when the key is in the start
position to make current available to the srarter motor.
How to find(+)12v ignition with your multimter:
1.set to DCV or DC voltage (12v or 20V is fine)
2.sttsch the (-)porobe of the meter to chassis ground.
3.probe the wire you suspect of being the ignition wire,the steering
column harness or ignition switch harness is an excellent place to
find this wire.
4.turn the ignition key switch to the run position,if your meter reads
(+)12v,go to the next step.if it doesn't,probe another wire.
5.now turn the key to the start position,the meter display should stay
steady,not dropping more than a few tenths of a volt,if it dropse
to or all the way to zero,go back to step 3. if it stays steady at(+)12v,
you have found an ignition wire.