passive entry system smart start car proximity sensor smart key identification recognized auto engine switch ignition
0
stars, based on
0
reviews
Wholesale Price:

| | |
| --- | --- |
| Quantity | Price |
| 1+ | $75.00 |
| 100+ | $71.25 |
Item specifics
Product Name::
Smart Car Alarm
Code Type::
Hopping Code Protection
Product Advantages::
smart anti robbery,passwords emergency unlock or lock,extra gps port output,long distance remote ,anti jammer
Product Manual Language Types::
English Manual,Russian Manual,Portuguese Manual
Product Guarantee Period::
2 years
cardot 2018 new product
passive entry system smart start car proximity sensor smart key identification recognized auto engine switch ignition
supporting petrol or diesel car
supporting manual or auto transmission car
Model No:1100FT-PS
special remind:
This is cardot 2018 new product with with all good and new practical features,price is also competitive,we also have three different manual version: english,russian,portuguese .
Product Basic Functions:
1.Passive keyless entry
handfree lock or unlock car door without pressing remote lock or unlock button.
when you approach to the car,car door is auto unlocked at 1-3M,
when you leave the car at 1-3M,car door is auto locked.
2.Push start stop engine
press the footbrake and press start or
stop button to turn on car engine or turn off the car engine
without pressing the footbrake,it is ACC-ON-OFF circle
when you press start button
3.Remote start stop engine
in arming,hold remote third button more than 3seconds to start engine,
press lock button 1 time to stop engine!
4.Hopping code protection
5.handbrake auto checking
this is for remote start security purpose!
6.side door alarm
in arming,if someone try to open car door illegally,our system will make sound alarm
7.central lock automatication
when you press the brake and drive the car,car door is auto locked,and then
when you turn off the car engine,car door is auto unlocked!
this function can be disabled!
8.remote open trunk
hold the unlock button for more than 2seconds,trunk is auto open!
9.RFID anti-cpllision tech
10.FHSS high security design
11.outside learning button
12.ultrasonic sensor output
13.supporting auto transmission or manual transmission car
14.supporting diesel or petrol car
15.support+/- siren or +/- trunk direciton conneciton without adding any relays
16.passwords keyless entry without smart key remotes
if smart key battery is dead or is broken,driver still can enter the car and drive!
17.outside learning button or emergency reset button
if remote battery is dead,at this time,alarm is triggered,
you can hold the reset button to release alarm.
18.3D smart key remotes
19.3D pke antennas
20.fuel path wire connection or not by dip setting
21.smart anti-hijacking mode
22.shock sensor alarm
23.open door flashing light
product standard compositions:
1 car alarm main unit,1pc start stop button,2pcs smart keys,1pc main cable,1pc start cable,1pc reset button,1pc alarm led,1pc passwords touch key pad,1pc alarm antenna,2pcs pke antennas,1pc english manual,1pc color box.
cardot product selling points:
selling point1:
High Pure Aluminium Alloy Brain Unit Case
Hair line finishing brushed finishing
quality is light golden shape,looks like more luxury
Selling point 2:
100% copper wire against inferior wires
it makes sure non wire oxidation or wire burning
selling point 3:
three pieces car alarm accessories are free value for you
selling point 4:
product has almost all necessary functions,also you can add optional part by your final need.
selling point 5:
all IC ,relay,capitance etc are from brand manufactuer,making sure stable working.
Selling point 6:
when engine is running,you also can trigger smart anti-hijacking feature.
selling point 7:
there are more 6 types of smart key remote to be selected by you,if smart key you order is not what you need,
please contact us for other types,we will add or reduce cost by remote type!
selling point 8:
3D Low frequency antenna and 3D smart key makes sure stable pke induction lock or unlock,no repeated lock or lock phenomenon!
selling point 9:
if you remote battery is dead or remote is broken by itself,you can use remote RFID part to emergency unlock and drive.
selling point 10:
6 wires central lock connection for almost all car types,easy to connect,don't need to add extra relays!
selling point 11:
as for +/- trunk trigger car or +/- trigger siren,you don't need to add any relay to switch polarity,you can connect them directly.
selling point 12:
if you want to become cardot agent or you have more order quantity,you will get much discount.based same product quality,our price is the cheapest one!
selling point 13:
there is passwords key code pad,you can lock or unlock car door by inputting passwords when remote is lost,remote is broken,remote battery is ended up.
selling point 14:
we added gps port for future mobile app control,supporting iso or andriod smart phone,you can buy seperate gps module working with our keyless entry&engine start stop kits when you want to add mobile app function at any time.
Product Real Photos: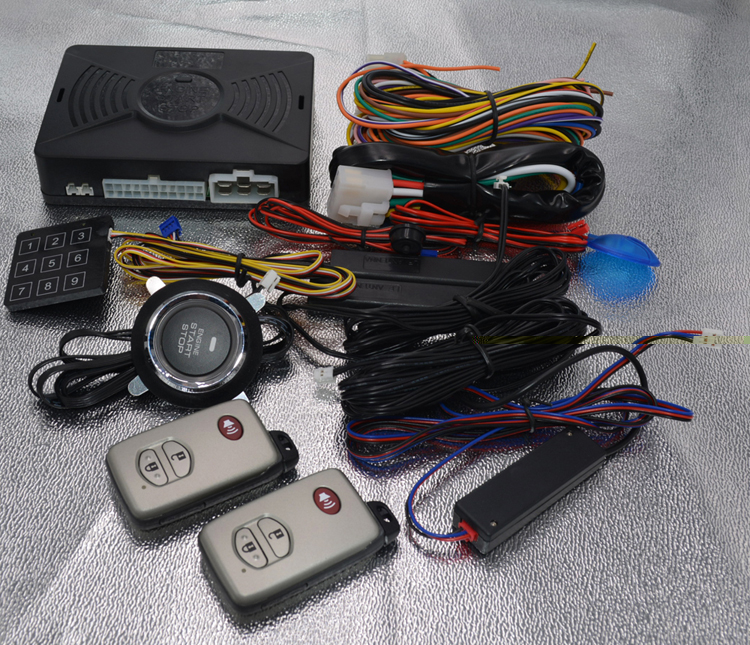 Product Details: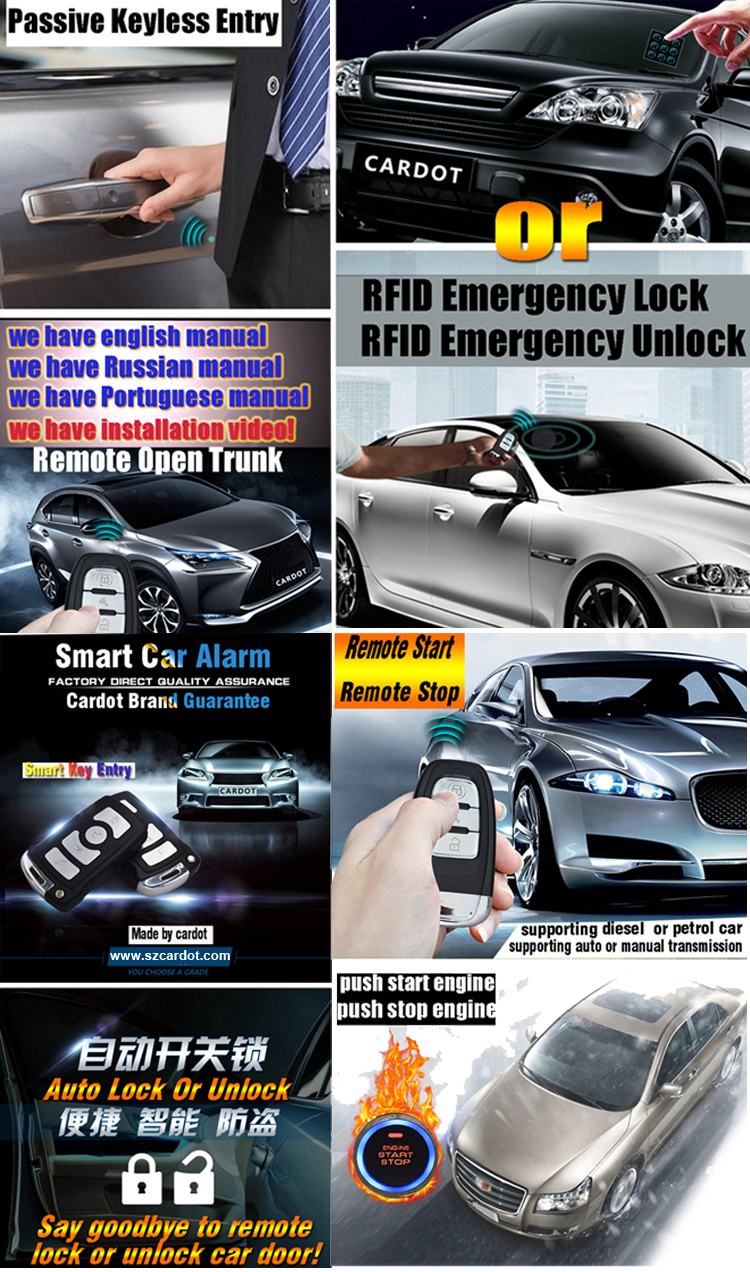 Product Installation:


Cardot Company: