Universal Passive Two Way Car Alarm System with remote start stop function and push start stop button
0
stars, based on
0
reviews
Wholesale Price:

| | |
| --- | --- |
| Quantity | Price |
| 1+ | $114.00 |
| 50+ | $102.60 |
Item specifics
Name::
PKE LCD two way car alarm with remote start
advantages::
remote start stop,shock alarm and side door alarm,start stop button,auto central lock unlock car door,push button start stop
Preface
Thank you for purchasing this Long-Range Two-Way FSK car alarm system with pke function and push start function
This vchicle secuity systen features a state-of-the-art technology and FSK design to give you maximum safety and satisfaction in using the system.
1)Please read this manual carefully before using this car alarm do that you'll take
the full advantage of every marvelous featues provided by thes systwm.
2)Seller is responsible for the service and warranrty.
3)The system raquires on specific maintenance. Your remoue control is powered
by a small 1.5volt 3AAA Alkaline battery .When the battery weakens,
operating range will be shortened.When the battery icon"-"begins flashing on
the LCD screen, please replace the battery.
4).This device may not cause harmful interference,
and;This device must accept any interferencereceived,including interference
that may cause undesired operation,Changes or modifications not expressly
5)Due to the complexity of this system,it must be installed by professional staller
6)All the module and interconnection cables are inaccessible to the end user except the remote control,valet switch,the antennna and its signal cables
Universal Passive Two Way Car Alarm System with remote start stop function and push start stop button
Model No:CD-T171S
Product Bacic Features:
3.multi-level security arming
hold the unlock button for more than 2seconds,trunk is opened.
9.remote engine start,temperature start
As for more details,please check manual page 16 to page 18.
10.disarm the system without remote control
it is emergency reset feature
in valet mode,alarm works only just as a keyless entry:lock or unlock car door,trunk,finding without any security functions.
14.correction of real time clock
15.auto lock or unlock car door
when the car owner approach to the car at 1-3M,auto unlock car door,when car owner leave the car at 1-3M,auto lock car door.
don't need to press remote lock or unlock car door,also this is called pke function,which can be enabled or disabled.
16.code memorizing of remote control
23.window rolling up output
in disarm,press remote lock button,car windows are auto up,but we won't send you window closer module!
24.support diesel or petrol car
25.suport manual or auto transmission car;
support mechanical steering wheel lock and electronic central lock
in arming,if open the car door illegally,it will trigger side door alarm
in arming,if trigger shock alarm,siren will sound and direction light will flash,it will notify car owner by LCD remote alarm status display.
28.hood alarm(hood pin is not standard composition,extra value!)
in arming,if open car front hood,siren will sound and direction light will flash,it will notify car owner by LCD remote alarm status display.
29.trunk alam(trunk pin is not standard composition,extra value!)
in arming,if open car trunk,siren will sound and direction light will flash,it will notify car owner by LCD remote alarm status display.
30.Motion alarm(ultrasonic sensor is extra value!)
in arming,if there is movement inside the car,it will trigger alarm.ultrasonic sensor is optional part,extra value!
Push start module main functions:
1.press button start stop longer
2.press button ACC-ON-OFF shortly
3.15 minutes countdown time auto stop the car
4.remote start by OEM remote or alarm remote
5.hand brake auto detection
6.support diesel (6s prewarm time)or petrol car
7.support auto or manual transmission car
Product compositions:
1 main unit,2pcs FM LCD alarm remotes,3 groups main cables,1pc start module,1pc shock sensor,1pc LED indicator,1pc alarm electronic siren,1pc killer relay,1pc reset button,2pcs pke antennas,1pc push start module,1pc push start cable,1pc push start main cable,1pc push start button,1pc english manual,1pc color box.
Product Real Photos: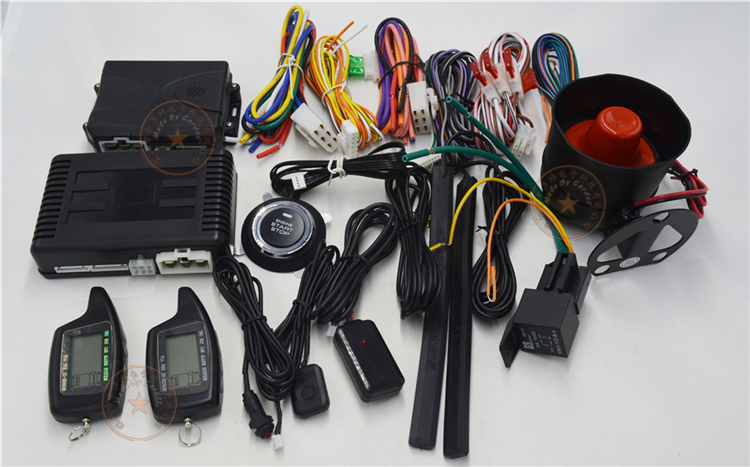 Special Instruction:
1.remote battery is cell button battery,model no is 1.5V AAA dry battery,1pc battery per remote,it is easy to buy this battery!so we won't send you remote battery.
2.product has window rolling up output,negative signal trigger,we won't send you window closer module
3.product has ultrasonic sensor slot,but we won't send you ultrasonic sensor!
4.car owner want to install our push start system,need to release steerning wheel lock and avoid chip key immobilizer signal(your car has chip key!)
System lnstallation
1.Due to the complexity of this system,installation must only be performed by an authorized dealer.
2.Thoroughly read become familiar with the installation instructions before beginning the installation
3.Review system contents:
4.Verify vehicle is equipped with electronic fuel injection, and starts/idles normally before installation.
5.Determine if vehicle is equipped with a factory theft deterrent system and obtain proper bypass module
6.Find a location to mount the hood pin switch that will not interfere with the opening of the hood,and
is not in a position that can accumlate water.The hood pin is a safety device that must be installed to
avoid remote starting during engine servicing.
7.Verify with the owner,the mounting locations for all visible components,including the LED and Receiver.
8.Verfy with the owner,the optional features of vehicle security system and the features that must be
programmed during installation.
9.Inspect and perform a function test of all vehicle systems before and after the installation.
10.Always use aVolt/ohm meter for testing vehicle circuits.Never use a test light.
11.Always look before drilling any holes or mounting self-tapping screws,Be sure fuel lines and exterior
wiring looms are clear as they are often close to the chassis and difficult to see.
12.Protect all wires runnong from the engine comparment to the interior of the vehicle by covering with
electricsl tape and split loom tubing.Be sire to use a grommet when routing wires through the firewall.
13.Properly fuse any additional accessories such as starter module, window module, door lock actuators.
etc.,Making sure to power them separate from the alarm Main Unit.This will ensure the functionality of
the security system in the event of an accessory failure.
14.Remove all fuses to avoid running down the battery during installation.
15.Roll down the driver's side windiw to avoid locking the ignition keys in the vehicle,
Install Guide For pke antennas:
The mounting place of Front PKE antenna has a substantial influence upon the communication
range of the system.It is recommended to install the Communication Unit to the left-upper side
(left-steering wheel)on the front windedow blind of the driver's seat. rear pke antanna is installed on the middle position between front door and rear door.also pke antenna should be far away from any metal part, Before mounting note to clean the mounting position with a wet cloth in order to glue the Communication Unit firmly.the